The Easiest Black Bean Brownies Recipe Ever
|
Why These Black Bean Brownies Are Actually Good for You
See, enjoying a sweet treat doesn't have to derail your weight loss plans. This black bean brownie recipe is excellent proof that you can get all of the good stuff without eating any of the bad, all while enjoying yourself!
Gluten-free, full of plant-based fiber and healthy fats, this black bean brownie recipe makes clever use the last ingredients you'd ever expect to bake up a batch of the most moist, gooey chocolate brownies you've ever eaten.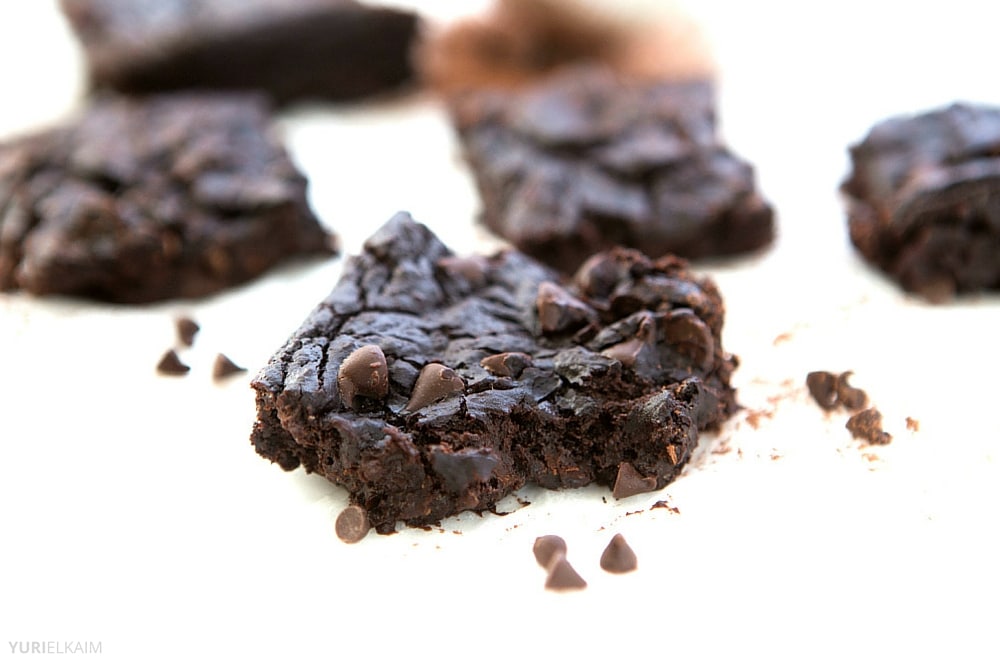 Those special ingredients? Black beans and avocados.
Yes, you read that correctly.
It may sound odd, but you seriously won't even taste the addition of these unconventional ingredients; it's just 100% satisfying chocolatey goodness in every bite.
To add an extra pop of melted chocolate in every bite of these black bean brownies, I've included a final stir-in of vegan chocolate chips. My favorite brand is Enjoy Life!, but you can buy other options online.
Alternately, you can swap in very dark chocolate, chopped into small pieces. Just steer clear of traditional sugar sweetened chips, which are generally a little cheaper, but only because they're made with cheap chocolate and other additives.
Baking with Your Blender
You can prep this recipe in a food processor, but if you've got an industrial-strength blender like a Vitamix or Blendtec, whip it out!
It may seem odd to prep a batch of brownies in the blender, but these high-speed machines make quick work of this recipe. Simply pop everything into your blender, cover with a lid and grab your tamper tool. You'll need to press down on the batter several times as it blends to get it totally smooth.

Black Bean Brownies
Serves 9
Make yourself a deliciously healthy snack by sneaking black beans and avocado into these rich, fudgy brownies.
1 large egg (or vegan flax egg)
1 (15 oz) can low sodium black beans, rinsed and drained
1/2 large ripe avocado
1 tablespoon vanilla extract
¾ cup coconut sugar
2/3 cup unsweetened cocoa powder
1 teaspoon coconut oil
1 teaspoon baking powder
1/3 cup vegan chocolate chips (Enjoy Life!)
Instructions
Preheat oven to 350 degrees. Spray an 8×8" baking pan with nonstick coconut oil spray.
In a high-speed blender or food processor, combine egg, black beans, avocado, vanilla, coconut sugar, cocoa powder, coconut oil and baking powder. Mix until a soft batter forms. Fold in chocolate chips. Pour batter into prepared pan. Bake for 25-30 minutes, or until the center of the brownies is set. Cool completely before slicing and serving.