Kombucha Chia Seeds Smoothie (No Blender Needed)
|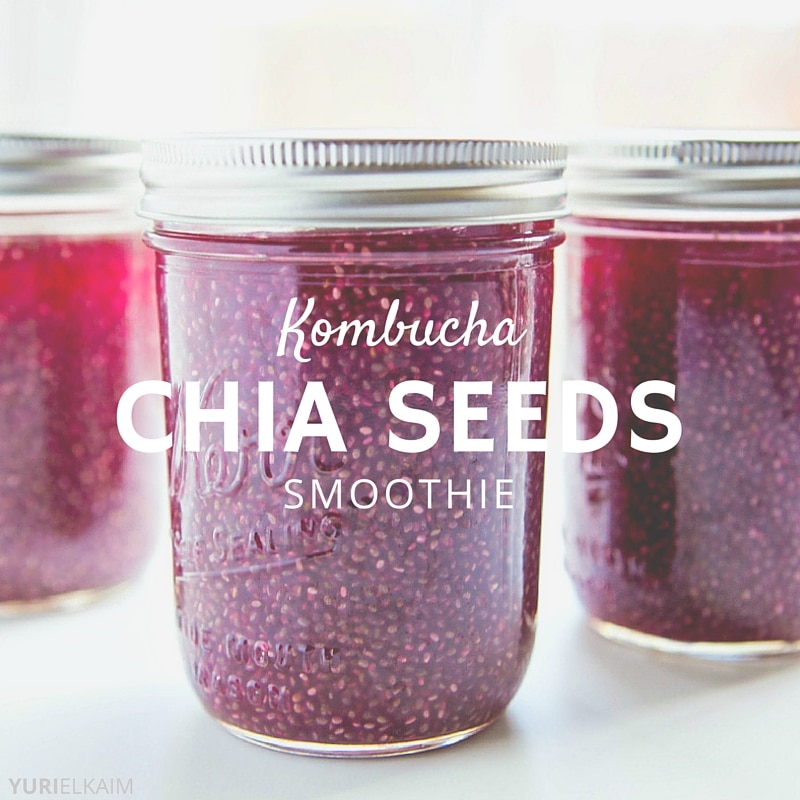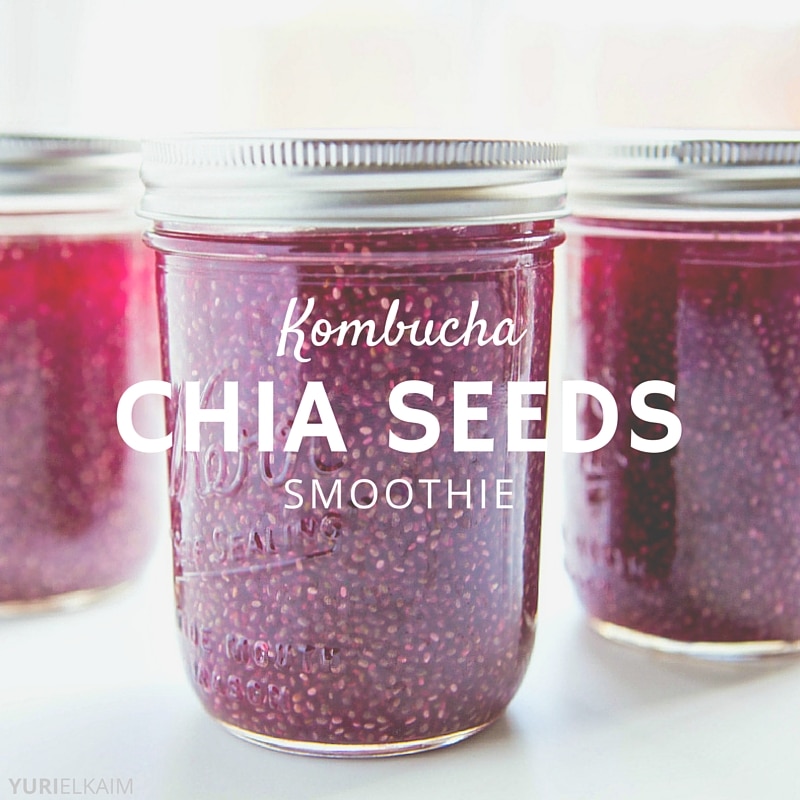 What happens when you mix an ancient elixir with an ancient superfood? You get a serious health boost – all packed into one ready-to-sip chia seeds smoothie.
Besides "prescribing" a daily green smoothie for optimal health, there's another drink worth adding to your everyday rotation.
This chia seeds smoothie is a new "remix" of a 2000 year old elixir so full of probiotics and gut-supportive bacteria, you can upgrade your digestive health in a matter of weeks.
Why is Kombucha Good for You?
This ancient elixir? Kombucha, a fermented tea used for thousands of years to boost immunity, detoxify the body and promote longevity. Here are a few more of the incredible benefits kombucha offers:
1. Supports Healthy Digestion
To make kombucha, sugar and tea ferment with "SCOBY"–a symbiotic colony of bacteria and yeast. The process yields a mildly carbonated blend which includes vinegar, b-vitamins, probiotics, enzymes and antioxidants—all of which may prevent and help heal stomach problems from excess acid build-up, such as ulcers. (1)
2. Strengthen Your Immune System
High in antioxidants, kombucha is a great way to hydrate and boost immune health. High in Vitamin C, a shot or two of this stuff is far more potent that prepacked vitamin C powders, which have been linked to stomach pain and intermittent gluten reactions. (2)
3. Help Your Body Fend Off Diabetes
Shown to decrease blood sugar levels, kombucha is also a great way to kick a soda habit. With it's natural carbonation and mild sweetness, you can give your body what it's begging for, while simultaneously lowering blood sugar levels. Can't say that about a can of Coke! (3)
4. Nature's Energy Booster
Most kombucha is made from black tea, which leaves remnants of caffeine in the final product. As you may know, I'm not a big fan of caffeine, but I do enjoy the big energy boost this drink provides thanks to the hearty B-vitamins content. It even serves up a dose of iron.
5. Helps with Weight Loss
Though marketed for years with many promises, the science on fermented tea has been slim. That is, until recently: A 2014 study on the physiological benefits of kombucha consumption showed evidence that it can improve metabolism and limit fat accumulation. (4)
How to Make a Chia Seeds Smoothie with Kombucha
Though you can make kombucha at home, dozens of varieties are now available in grocery stores. Check the net carb content before buying. Some of the storebought versions come with a hefty dose of added sugar.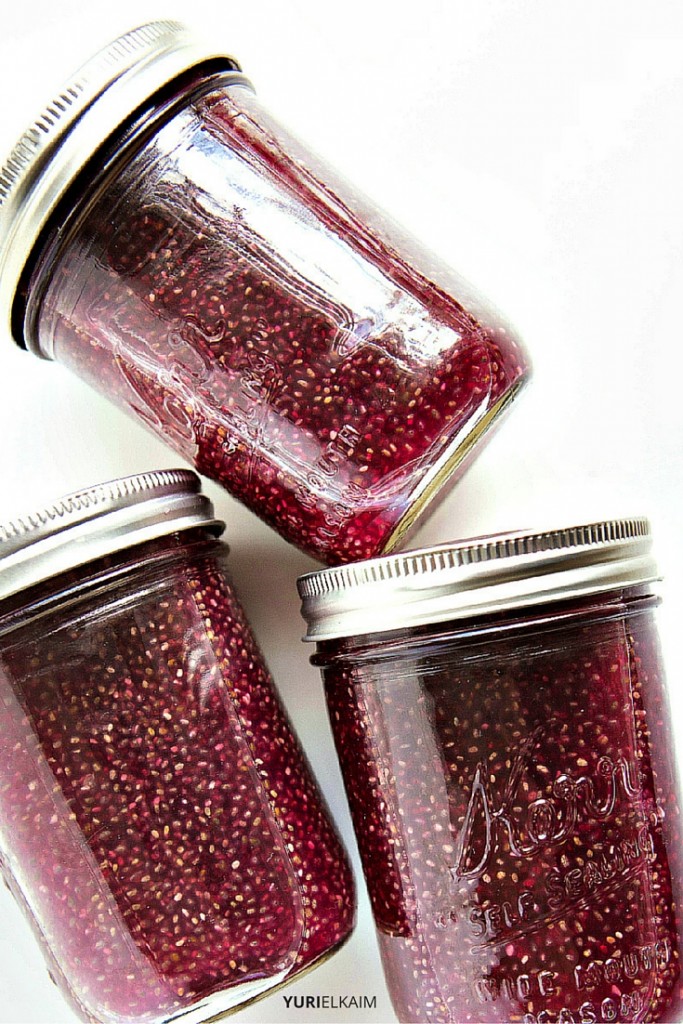 Look for brands with less than 7g of total carbs per serving.
Because kombucha itself is high in nutrients but low in protein, fiber and Omega-3 fatty-acids, I love turning it into a smoothie with chia seeds. One bottle of kombucha can be easily turned into 2-3 smoothies, a great way to stretch your dollar, too!
Prep a big batch of this stuff in a large mason jar and keep it in the fridge. It makes a great afternoon snack, delivering serious health all in one ready-to-sip chia seeds smoothie.
Kombucha Chia Seeds Smoothie
Serves 2
You can pay nearly $5 for a bottle of chia-kissed kombucha. Or you can make your own at home! Purchase a large bottle of inexpensive, pre-made kombucha and turn it into a Chia Seeds Smoothie. It's easier than you think. Just shake, refrigerate and serve!
Ingredients
1 1/2 cups Kombucha (any flavor) or fresh-pressed juice
1 teaspoon beet or carrot juice (optional)
1/4 cup chia seeds
Instructions
Stir together all ingredients in a wide-mouthed mason jar. Cover and shake well, then refrigerate for at least 2 hours. Just before enjoying, shake once again to disburse the chia seeds. Sip and enjoy!
Commonly Asked Questions about Chia Seeds Smoothies
Why use chia seeds in smoothies?
Adding chia to smoothies is a simple way to boost the protein and omega-3 content of any blended drink. Because chia seeds are also a natural thickening agent, they are also used to create an all-natural, 100% vegan pudding or custard-like consistency.
How much chia do you put in a smoothie?
A good rule of thumb is 1 tablespoon per 1 cup of liquid. You can always put more, but keep in mind that chia seeds are a natural thickening agent. Too many, and you'll then have a chia seed pudding.
How to use chia seeds in your smoothie?
There are two simple ways to add chia to a smoothie. You can either blend the chia right into the smoothie, or you can stir chia seeds into the final already-blended smoothie.
Source: Yuri Elkaim